FEATURED: Tsugami B0386-III - 38 mm, 6-Axis Opposed Gang Tool CNC Lathe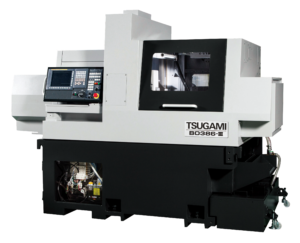 Tooling Capability
The Tsugami B0386-III touts 29 Tool Positions Standard, 42 Optional, including a combination of rotary tools, ID holders and turning holders.
Enhanced, 6-Axis Swiss Style Lathe
Large linear guides, a three toggle clamping system, and extra ribbing under the spindles are just a few of the Tsugami B0386-III's engineering advancements.
320mm of Stroke
This machine features 320 mm of Stroke in guide bushing mode and 70 mm when used in chucker mode.
Thermal Compensation Standard
This machine has thermally symmetrical construction and features 0.1 micron resolution due to the thermal displacement compensation touch switch and temperature sensors built into the casting of the machine.
Tsugami machine tools are available via our exclusive network of distributors and direct sales channels throughout North America.

Locate Your Local Distributor
Get A Quote